This is the best way to photograph jewelry. For one it's free (as opposed to other set ups like light boxes and that cloud dome thing..which I hope to obtain in the near future) and it brings out the natural colors in the jewelry. I rarely do this however because it's more of a hassle then it's worth right now in my situation. I usually scan my jewelry (a practice very commonly used by online jewelry shops)..it's so easy and so convenient..everything is right there were I need it. However while it gives a really good detailed picture of the piece..sometimes it inhibits certain colors or doesn't allow the reflection of some of the beatiful stones or especially mother of pearl and abalone to be seen.
My digital camera is 5+ years old and while I think it works great still, I never purchased an upgrade on the memory card so it will only hold about 12-16 pics. This doens't work out so well when I come back to upload and find out that some of the pics were blurry or what usually happens is a reflection is picked up from the tan muslin I use as a background and it causes a full on haze to go over the jewelry. I'm not quite sure what causes this as some come out this way and some don't.
My last trip outside to take jewelry...I ended up with maybe 2 usable shots. Pretty depressing after trucking out all the jewelry, the displays the backgroun cloth, the power cord (since my rechageable batteries have died.) And then they weren't as nice as I remember getting (before I knew you could scan jewelry)in the past when I only used to take pictures outside. I wonder if my camera is getting old..if that would affect it.

Here's one of the recent outside pics that turned out just okay:



available here

and this one...I think the sun came out better for this one:



available here

This one was taken on the same piece of wood, but inside with a bright light on it. Even though I'm not as happy as I have been in the past with the first two taken outside..I can see a bit of a difference. However I don't know if it's better or worse because the jewelry looks brighter on the outside pics..but the background too bright and kinda takes over. Perhaps I need to find someting darker to put in the background of the outside pics.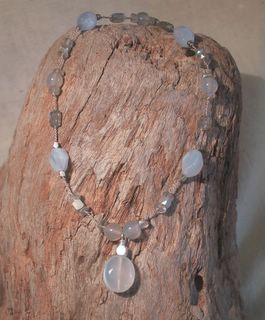 available here

At any rate...I have A LOT to learn when it comes to photography.