I've been wanting to get my hands on some deep purple peacock coin pearls..but the ones that came in were more green and had too many broken or popped blisters on them for the expensive price so I sent them back. I did end up with two new colors though and am anxious to create some new jewelry:




Bright Emerald Coins



Lilac Noir Coins
I've had light purple before..but this purple has more red then blue in it..so I'm hoping for some new inspiration :)

I finally posted a few pairs of ear threads to the site a couple of weeks ago. I'd sold out of what I had at the craft fair. They are a real fun style...you pull the whole chain through your ear :) Today I got in some vermeil ones..I think my pink tourmaline will look great on those!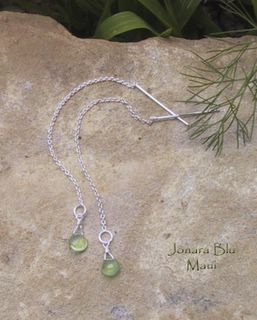 lime chalcedony on 3" sterling silver cable style chains



wedgewood blue pearls and blue sapphire Swarovksi crystals on 5" sterling chain. This is a very silky sparkly type of box link.