I've been sick AGAIN...so was stuck in bed and managed to make this..I absolutely love the rich colors! Not too fond of doing all the wire wrapping, but the end results are so worth it :)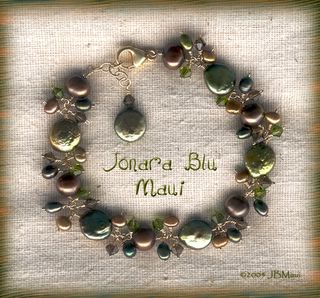 This bracelet was made using the new bright emerald green coin pearls I just purchased. The color is gorgeous..I should have ordered more. I'm also in love with the huge chocolate peacock semi round pearls inbetween each coin. I have been saving them for just the right piece and felt this was it. Dangles are more pearls and olive and smokey quartz Swarovski crystals
available here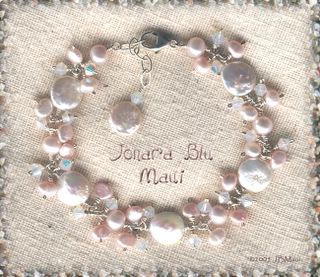 and this one has white coins with very light pink potato pearls inbetween. Dangles are pink nugget pearls with opal aurora borealis Swarovski crystals.
It's available in my shop here

My head isn't quite as spacy today so I'm hoping to get to creating with my other new pearls I showed you. Either that or I received another pearl shipment in yesterday and was very pleased with some giant magenta keshi (aka 'reborn') pearls...they are so beautiful and so different looking from other keshi pearls I have... I hope I can do them justice.