The super cool Maricris (isn't that the cutest name?) of Zen Ventures awarded me this today: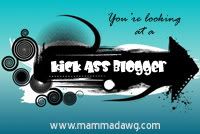 and she had this to say:

You get this award because I liked you from the first time I found your blog. You have that sweetness and caring persona about you and has been very helpful to me with my jewelry questions. Most of all, I admire your jewelries a lot!

What a nice thing to say..makes me feel all warm and fuzzy inside.
Mahalo Nui Loa Maricris!


Stay tuned to see who I pass the award on to!