Just made these pieces yesterday for one of my wholesale accounts, a shop in Waikiki called Natural Hawaiian. They do have a website you can check out, though you won't see any of my jewelry on their website. If you happen to be in Waikiki and would like to see some of my pieces in person, know that the Natural Hawaiian has 3 store. The shop that carries my jewelry in in thePacific Beach Hotelat: 2490 Kalakaua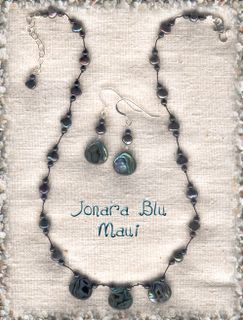 The tear drop pendants on this necklace are Paua shell which is the most colorful kind of abalone shell..it's found in New Zealand. They are hand-knotted on black silk cord with dark purple peacock freshwater nugget pearls and soft black tiny round freshwater pearls. Matching earrings are on sterling silver.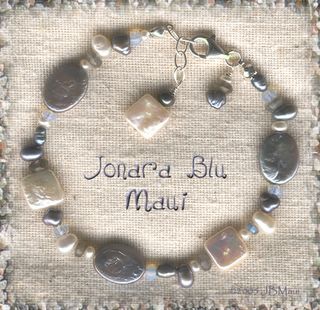 My Hawaiian winter bracelet...the second of this kind..though I usually change things out a bit so they are different. This one I added the opalite to the mix of pearls and labradorite.



This one was fun, I love these rich olivine tones. Moss green coin pearls with Swarovski crystals, other freshwater pearls and Hill Tribe silver.

Kay..it's time for me to go to bed..night night for now :)